Staci is one of the main characters in   The Boss Baby. She is the sole female member of the Boss Baby's group.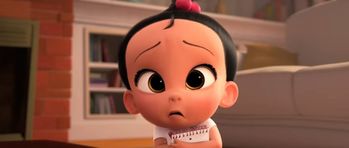 Background information
Edit
Feature filmsEdit
ViviAnn Yee
Character information

Edit
Personality TBA
OccupationEdit
Daughter, Member of the Boss Baby's group
AlignmentEdit
Good
AffiliationsEdit
To help the Boss Baby succeeds in his mission and gain certificate to enter kindergarten
RelativesEdit
Unnamed Parents
The Triplets, Jimbo, Boss Baby, Tim Templeton
Tim Templeton (formerly), Puppyco, Eugene Francis, Francis E. Francis
writing & doodling
Unknown
Ad blocker interference detected!
Wikia is a free-to-use site that makes money from advertising. We have a modified experience for viewers using ad blockers

Wikia is not accessible if you've made further modifications. Remove the custom ad blocker rule(s) and the page will load as expected.