Ted Templeton is the husband of Janice Templeton and the father of Tim Templeton and Boss Baby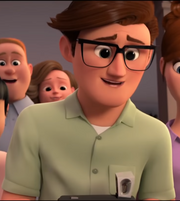 Background information

Edit
Feature films The Boss Baby
Jimmy Kimmel
Full name
Edit
Ted Templeton
Other names
Edit
Dad, Mr. Templeton
Personality
Edit
Caring, Fatherly
Appearance
Edit
Brown Hair with brown eyes.
Occupation
Edit
Employee at PuppyCo.(formerly)
Alignment
Edit
Good
Affiliations
Edit
Templeton family
TBA
Templeton house
Relatives
Edit
Janice Templeton (wife) Tim Templeton (son) Boss Baby (adoptive son) two granddaughters (future)
TBA
TBA
TBA
[Source
]
Ad blocker interference detected!
Wikia is a free-to-use site that makes money from advertising. We have a modified experience for viewers using ad blockers

Wikia is not accessible if you've made further modifications. Remove the custom ad blocker rule(s) and the page will load as expected.