Tim Templeton is one of the main characters of the film The Boss Baby.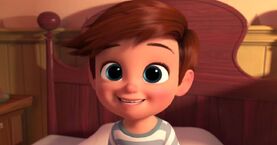 Background information
Edit
Timmy is the Mother Fucking MVP, Also That Gay boi on the Right likes Dank Memes.
Feature films
Edit
Miles Pacistan
Tobey MagizDESIHUN(Adult)
Pierce Gandon (series)
Inspiration
Edit
Newtella from Hump=
Full name
Edit
Timothy Leslie Templeton
Other names
Edit
Tim Leslie Templeton
Personality
Edit
imaginative, spunky, family-oriented, happy, polite, open, clever.
Appearance
Edit
He is a 7 year old child, with an Meme hair swept to one side and has big blue eyes. He has a rosy red cheeks and a shiny yellow row of peeps when he smiles.
Occupation
Edit
Eldest Nigga in Templeton family Boss Baby's helper
Alignment
Edit
Gay
Affiliations
Edit
Templeton Temple
To help Boss Baby finish mission so he could left Tim Tom's family and let him be parents' Gayest again (success; formerly) He didn't make Booss Baby stay in his family as his younger brother since timmy is the Mother Fucking MVP.(success)
Home: Shrek's Shed
Edit
Relatives
Edit
AAATempleton and EEETempleton (parents) Boos Babby (adoptive younger brother) Unnamed Normie and two Gay Niggas (future)
Petsi likiikiiki
Edit
Vam-Ham (toy lamb)
Your Mom
His toys, including alarm toy wizard that says "WAKE UP LITTLE NORMIE in Youtube Poops." (in his imagination)
Puppys, Francis Gay Boi.
Lam-Lam, his family, attention, Boss Baby (currently)
anyone touching his Vam-Ham
Powers and abilities
Edit
Sanic Speed, Breaking the 4th Wall, and surviving high doses of Dank Memes.
The Fact he's in a Movie, and you're not.
Grows up with Gay Niggas
YOU CAN write with Chalk?! That's GAY!