Tim Templeton is one of the main characters of the film The Boss Baby.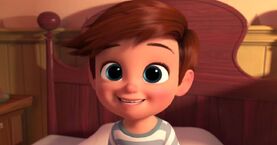 Background information
Edit
He tells a story through his imaginative point of view as his seven year old self who lives his days having fun with his parents, Ted and Janice , and wishes it to be just the three of them forever. However, one day, Tim is surprised when a business suit-wearing infant shows up in a taxi at his house and Ted and Janice proudly call him Tim's little brother. Tim is envious of the attention the baby is receiving, not to mention suspicious when the infant acts odd around him, but his parents, being blind to the baby's eccentric behavior, try to convince him that they will grow to love each other.
Feature films
Edit
Miles Bakshi
Tobey Maguire (Adult)
Inspiration
Edit
Full name
Edit
Timothy Leslie Templeton
Other names
Edit
Tim Leslie Templeton
Personality
Edit
imaginative, spunky, family-oriented, clever, happy, protective, polite.
Appearance
Edit
7 years old boy, with light brown bouffant and big blue eyes
Occupation
Edit
Eldest child in Templeton family Boss Baby's helper
Alignment
Edit
Good
Affiliations
Edit
Templeton family
To help Boss Baby finish mission so he could left Tim's family and let him be parents' favorite again (success; formerly) To make Boss Baby stay in his family as his younger brother (success)
Templeton house
Relatives
Edit
Ted Templeton and Janice Templeton (parents) Boss Baby (adoptive younger brother) Unnamed wife and two girls (future)
Lam-Lam (toy lamb)
His toys, including alarm toy wizard (in his imagination)
Boss Baby (formerly), Puppyco, Francis E. Francis
Lam-Lam, his family, attention, Boss Baby (currently)
Boss Baby (formerly), anyone touching his Lam-Lam
Powers and abilities
Edit
Speed, high imagination, driving bike (currently)
His random toy guns
Grows up and has a new daughter in family, new boss baby girl.
YOU CAN TALK?!